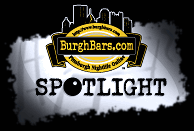 Archive...
BurghBars Spotlights a different event every week:
Suggest An Event For Us To SpotLight
BurghBars is looking to become Pittsburgh's best place to find food, drinks, and fun. BurghBars is working on creating the largest searchable database of Bars and Restaurants in the Pittsburgh area. We are also putting a different band or event in our SpotLight every week. Please send all ideas and inquires to info@burghbars.com
Press Kits can be sent to:
BurghBars Spotlight
PO Box 165
Sarver PA 16055
---


Return to BurghBars
---
The BurgBars logo, interface, search method and database are all TM and © 1998, BurghBars.
All rights reserved.